Our service department carries out thousands of metalocking, welding and machining jobs/repairs every year. Casting repair is what we do. From cylinder blocks / heads to Mill Ends.

Following are a few insights into Metalock Repairs in atypical materials - materials that are usually welded inc: Bronze, Aluminium, Steel Plate and Ultra Hard gear [odd metalock applications] and some tricks of the trade that make our life easier. We hope that these Hints / Tips help you too.

Many times we have to drill out studs and bolts for customers, remove broken taps for ourselves as part of our repairs and of course renew damaged threads [see Thread repair ].

On General Information required for file or discussion - Please read through our FAQ section to see if your answer is there. We're happy to mail you the Metalock International Association [MIA] brochures [updated yearly] that showcase all sorts of Metalock work. And are often guest speakers at conferences – from Vintage car clubs at our workshop to major conferences around the world.

Of course Specific engineering discussions are required when a job is in hand. Please Ring us 61397064100, fax a drawing 61397064174 or email us some pictures with any relevant information metalock@tpg.com.au [Need an accurate quote quickly –please fill in as much of the Required Information form as possible]


Tapping Tips We tap thousands of holes a week and use pneumatic tapping machines – Desoutter, Atlas Copco or Uryu. Tapping holes with a pneumatic tapper is many times faster than tapping by hand, breaks fewer taps / makes better threads. Most tapping machines do not have a clutch that can be adjusted for torque. The tap chuck can be slightly loosened to allow the tap to slip. The amount of pull on trigger will control the speed. Don't let the Tapping machine chuck run against or interfere with anything whilst tapping as side pressure may break the tap. A range of Walton tap extensions are available from us to avoid this. Use appropriate tapping fluid for the application. We use trefolex - don't sell it but use it.
To prevent tap breakage invest in quality taps to start with [We use and sell Goliath HSS taps and Suttons HSS taps] keep taps clean, ensure they are sharp, tap at the same angle as you drilled by placing a pin or drill bit in the hole to line it up.

OK- precautions not withstanding a tap will still break. Now what. Do what we do - Panic [only a little bit] and follow these steps.



Removing a broken tap

1] Use a Walton tap extractor of the correct size. The hardened steel fingers of Walton Tap Extractors fit in the flutes of a broken tap to back it out simply and safely. They are available in every tap size. [Further information and pricing on these specialised repair / maintenance tools is in the Products section.] If the Tap extractor does not work due to the way the tap has shattered carry out next steps.

2] If the hole is drilled through drive the broken tap segments out with a pin 3] not through- breakout tap piece by piece with a hardened centre punch, a broken and ground down tap will suffice. 4] An EDM will burnout a tap without too much damage to parent hole – ok if casting is small/ portable enough to fit under the machine. Never use a cutting torch as it will damage the surrounding area.




Walton Tap Extensions
extend the reach of standard taps and allow tapping in deep holes and awkward locations and virtually eliminate the need for costly, special-length taps. They can be used over and over because they won't wear out, become dull or break. Common sizes stocked are listed here – many others available. Please ask
Single Style B Tap Extensions for Standard Taps [suits machine and hand tapping]
Single Extensions
Tap Size
EDP No.
A
B
D
J
E
C
Inch
Metric
#0-#6
(1.6-3.5mm)
40006
5/16"
.250
.142
.112
.191
.255
#8
(4mm)
40008
3/8"
.250
.169
.133
.191
.255
#10 (3/16")
(4.5-5mm)
40010
3/8"
.312
.195
.154
.191
.255
#12
(5.5mm)
40012
7/16"
.312
.220
.166
.164
.219
1/4"
(6mm)
40025
7/16"
.375
.256
.193
.191
.255
5/16"
(7-8mm)
40031
1/2"
.437
.319
.240
.237
.318
3/8"
(10mm)
40037
5/8"
.500
.382
.288
.285
.381
7/16"
(11mm)
40043
5/8"
.500
.324
.244
.241
.323
1/2"
(12mm)
40050
5/8"
.500
.368
.277
.274
.367
Set No. 9
40090
Complete set of nine extensions
9/16"
(14mm)
40056
11/16"
.562
.430
.322
.320
.428
5/8"
(16mm)
40062
3/4"
.625
.481
.361
.359
.479
11/16"
(17-18mm)
40068
7/8"
.687
.544
.408
.405
.541




| | | | |
| --- | --- | --- | --- |
| TAP EXTENSIONS | Size | | price+gst |
| 40006 | #0-#6 (1.6-3.5 MM) TAP | EXTENSION STYLE 'B' | $90.00 |
| 40008 | #8 (4MM) TAP | EXTENSION STYLE 'B' | $98.00 |
| 40010 | #10 (4.5-5 MM) TAP | EXTENSION STYLE 'B' | $105.00 |
| 40025 | 1/4" (6MM) TAP | EXTENSION STYLE 'B' | $120.00 |
| 40031 | 5/16" (7-8 MM) TAP | EXTENSION STYLE 'B' | $130.00 |
| 40037 | 3/8" (10 MM) TAP | EXTENSION STYLE 'B' | $135.00 |
| 40050 | 1/2" (12 MM) TAP | EXTENSION STYLE 'B' | $140.00 |
| 40056 | 9/16 (14MM) TAP | EXTENSION STYLE 'B' | $145.00 |
| 40062 | 5/8" (16MM) TAP | EXTENSION STYLE 'B' | $150.00 |
| 40068 | 11/16" (18MM) TAP | EXTENSION STYLE 'B' | $175.00 |
How to Extract Broken Studs or Screws
Drilling out broken bolts / screws is certainly viable – main thing: [especially with hi tensile bolts] it's
vital
to get the centre, use slow speed, cutting fluid or paste and high load – fast speed and friction causes heat making it even more difficult to drill – sometimes carbide drills are required. Start with a small drill and enlarge as much as possible without going into the thread and use a drill size that suits the following Screw extractors. If the part to be removed is rusted, use penetrating oil to loosen the rust. [We use Rostoff penentrant]. Our preferred extractors are 1] Rigid screw extractors as they can be used for both right and left hand thread, and are parallel so when they break they can be punched straight through. If the stud / bolt goes straight through – drill straight through – or at least sufficient depth to remove as much material as possible. Range is good - they start real small. Can be difficult to obtain.
2] REPS Extractor – from Walton tools - [we import these from USA] and like their strength and small depth required to fit. Instructions: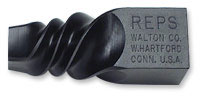 Drill a hole in the exact center of the broken part deep enough for the
REPS Extractor
to achieve its shallow grip. Apply penentrant. Insert the proper size extractor straight into the drilled hole, so that all four points "bite" at the same time. Give the extractor a light tap with a hammer to help seat it in the part. Turn the extractor counter-clockwise with a wrench, and the stud or screw will unscrew on its own threads. To remove the extractor from the broken piece, turn the extractor clockwise to unscrew and release the bite. Features: Four point grip assures strong bite Works with a shallow grip, reducing expansion and jamming Pulls rather than reams Releases instantly from bite after job is completed. Smallest suitable thread size starts at 10mm [3/8]
3] DON'T USE normal tap extractors [or more correctly don't break them] Many times we get asked to remove a bolt/stud with these already broken in them. Usually have to drill down the sides and thread insert – Nasty.
REPs
2009
Pricelist
To suit the size of broken:
Price +
Part No
Size
Pipe
screw
Drill size
GST
50001
#1
Reps screw extractor
1/8
10mm 3/8"
5.5mm 15/64
$18.45
50002
#2
Reps screw extractor
1/4
12mm 1/2"
7.5mm 9/32
$29.93
50003
#3
Reps screw extractor
3/8
5/8-3/4 16-18mm
10mm 13/32
$34.65
50004
#4
Reps screw extractor
1/2
20-22mm
10.5mm 27/64
$42.10
50005
#5
Reps screw extractor
3/4
1 1/8-1 1/4"
28-30mm
23/32 19mm
$58.28
50006
#6
Reps screw extractor
1"
1 1/2-1 3/4"
38-44mm
29/32
$78.08
50010
#10
Reps screw extractor
7/8-1" 22-26mm
1/2"-13mm
$51.52
Note: Drill size is approximate -
50205
Reps screw extractor Master set
1 each Nos. 1, 2, 3, 4, 5
$195.00
50206
Reps screw extractor Master set
1 each Nos. 1, 2, 3, 4, 5, 6
$247.00
50207
Reps screw extractor Master set
1 each Nos. 1, 2, 3, 4, 10, 5, 6
$295.00
Common sizes stocked are listed here – larger sizes available
Following are 4 jobs that are different from our normal Cast iron and cast steel Metalock repairs. Not that unusual - just examples of some of the dissimilar materials / applications we work on.
Bronze propeller hub Aluminium marine gearbox Tanker Hull - Plate Steel Hard Casing Rc62


Bronze Propeller Hub damage. Metalock of Australia P/L was contacted following discovery of propeller hub damage during a routine check of MV Iron Monarch at the Sydney Naval Dockyard.
The damage was a result of propeller blades coming in contact with a semi submerged container 2 years earlier. Whilst the blades were repaired, initial investigation failed to find hub damage.
The casing was "frozen" solid to the shaft and the strict time requirements involved did not allow for its removal and repair by any other method.
The bronze alloy variable pitch hub suffered cracks of 33". No. 4 locks – 6 deep in the centre [feathering out to the edges] were utilised in conjunction with nickel studs and copper pads.
Extremely difficult to machine /drill, the repairs were completed in 60 hours to the complete satisfaction of the Chief Engineer and Lloyd's surveyor



Aluminium Marine Gearbox was badly corroded and unable to hold oil. Unit was not replaceable and welding was ruled out because of distortion. Scope of work included dismantling, machining away corroded area, manufacture of new section in special marine alloy and metalocking it into place. Both the drain plugs and filter assembly pockets were replaced / machined. Transmission was reassembled and put back in to ferry service some 6 months ago. Works completed to full satisfaction of customer in 5 days. A 2 year warranty on repair was happily given.



Tanker Hull repairs – Damage / fracture to shell plate steel of fuel tank occurred through Tugboat mishandling. Running water applied during repair process. Section Vacuum tested after Metalock repairs to satisfaction of Surveyor and Chief Engineer.


Ultra Hard Casings. These Extrusion crosshead casings are extremely hard – our scleroscope hardness test measured 62Rockwell.
A center shaft was machined to size / used to maintain alignment and size - whist the sections were clamped together under high load with a porta-power hydraulic ram. Carbide drills, taps and milling cutters were used to machine the body and in fitment of high tensile [tool steel] Masterlocks. Replacement units were ex Switzerland with an ETA of 6 months – each unit took around 1 week to repair and were in service until new X-heads arrived.